They start out as four- and five-year-olds, drawing stick figures and copying letters to express the memories, moments and inspirations bubbling up inside their minds. They leave as adept critical thinkers, skilled researchers and seasoned communicators capable of both sophisticated persuasion and powerful self-expression. As one of the most integral skills Ravens develop in their time here, communicating well through writing touches nearly all academic disciplines and aspects of learning.
Teachers make it happen with purposeful curricular alignment and thoughtful collaboration that draws from the Lead From Here framework to equip students to understand their own thinking, share it with others and use it to make an impact on the world around them. Here, we explore writing instruction in each of the three divisions, taking students from PreK all the way through 12th grade.
Jump To
At top, Teddy Hauck concentrates on his writing, an emerging skill for four- and five-year olds, in this photo from Laura Coffey's 2019-20 kindergarten classroom.
---
Lower School: Building the foundation for communication and collaboration
"STORYTELLERS AND STORYTHINKERS"
The foundation for strong writing begins in the Lower School, where an integrated reading and writing curriculum capitalizes on students' love for stories and encourages even the youngest Ravens to see themselves, as curriculum specialist Ruth Thomas said, "as storytellers and storythinkers."
"Children have a natural willingness to tell stories," she explained. "Our PreK and K students begin by drawing and narrating their stories, often focusing on their own experiences — 'I built a snowman' or 'My best friend is ...' — but we have some fiction too. We increase that detail in our drawings, and then we start to write about it."
PreK teacher Crystal Garris reads a story to her class in this photo from Fall 2019.
---
"My kindergarteners apply their emerging knowledge of letters and sounds to construct words in their stories," teacher Laura Coffey said. "One student wanted to use 'decorate' in his story. He took a risk and invented the spelling because it was so important to his story."
Teachers nurture that growth mind-set around writing, encouraging students to dig into new opportunities to write as they expand their vocabulary, discover different kinds of writing — narrative, informational and persuasive — and try out new strategies and techniques. They help them make connections between the writing they're reading in class and the reasons why they themselves write.
| | |
| --- | --- |
| | PreK students Lauren Nunalee (in Betsy Barnett's class) and Grace Fowler (in Lana Dubose's class) tell stories through a combination of drawings and text. |
---
"We teach writing all day long, in all subjects, moving toward understanding and articulation in both the spoken word and the written word: 'Show me you know, show me how you know, tell me a different way,'" Thomas said.
For many Lower School Ravens, writing is a favorite activity.
Brielle Volpe, a student in Warsha Rao's kindergarten class, said, "I love writing a lot because we write words, draw pictures and color."
"When I do writing, I feel powerful," Hallie Tayrose, a fourth-grader in Jennifer Barcella's class, said. "I pull out creative thoughts from my head that make the story interesting and unique while using all that I have learned."
Above: PreK students Katie Brimmer and Liam Godiwala listen with rapt attention as teacher Betsy Barnett reads a story.

Left: In this photo of Laura Coffey's 2019-20 kindergarten class, Carmen Gomez practices during writing workshop.
---
A SUCCESSFUL APPROACH
The Lower School uses a research-based approach to writing instruction that incorporates three elements: student choice, an emphasis on writing as a process, and use of the workshop model. Across all grade levels, students are engaged, encouraged and supported as they hone their skills.
In a recent unit on informational writing, Gabe Clark's third-grade students chose a topic, gathered information and then wrote about their findings, creating digital books to share. Subjects ranged from All About Golden Retrievers to Halloween: A Night of Fun and Fear.
Third-grader Jax Dudek wrote, illustrated and published a digital book, "All About Golden Retrievers," as part of an informational writing unit in Gabe Clark's class.
---
"When students get to choose what they write about, even reluctant writers are motivated," Clark said. "This gives us more opportunities to get them hooked on writing and show them that their writing can be powerful."
Teachers also emphasize that it isn't a one-shot deal. They walk students through the steps in the writing process: prewriting, writing, revising and editing, rewriting and often, as with Clark's project, publishing their work for classmates, parents and others to read. Writing tips and techniques, vocabulary building and grammar are covered within the context of students' efforts to create and refine their drafts.
Meg Ellis's kindergarteners shared their research about ballerina Misty Copeland as part of Black History Month in February 2021.
---
"We don't teach formulas, we teach writers," Thomas said. "What do we do in the introductory paragraph? We hook the reader. Why do we elaborate? To give more information. Why is punctuation important? A period at the end of a sentence tells your reader to pause, think about what you said and move on."
If it sounds intensive, that's because it is. But the block of time set aside daily for writing — the writing workshop — lets students work at their own pace. It also encourages collaboration, as students read and respond to their classmates' drafts, and facilitates differentiated instruction.
"Workshop time allows me to conference one-on-one with students," fourth-grade teacher Tamara Simpson said. "I can meet each student's individual needs.
PREPARING FOR MIDDLE SCHOOL
The use of the workshop model across grade levels also "establishes routines and patterns of instruction that support authentic student learning throughout Lower School," Coffey said.
This alignment is particularly important as students approach the transition to the Middle School. To help prepare them for the changes to come, the fifth-grade team is organized by subject area, with Nicole Willis serving as the English/Language Arts teacher for the entire grade. In this role, she is also a member of the Middle School Language Arts Department, attending meetings and sharing feedback about the curriculum and students' progress.
Selah Valles, a student in Kayla Malcolm's third-grade class, writes during workshop.
---
"One of the many developmental milestones that happens as children approach fifth grade is that they explode with independence," Willis said. "They develop as critical thinkers in this stage. That transfers into having bigger ideas, a more colorful vocabulary and more life experiences to draw connections to."
Among the increasingly sophisticated assignments fifth-graders have done this year, Willis said, their unit on persuasive writing and debate was particularly powerful. Students chose a topic they have a strong opinion about, did research to find support for that position and crafted an argument that explored their view.
Fourth-graders John Kane and Carter Overcash, at front, collaborate on a graphic organizer about important structures and symbols while teacher Tamara Simpson checks in with their classmates in this Fall 2019 photo.
---
"This process opened my eyes to how passionate these writers are about real issues in our world and how they have deep and broad abilities to articulate their thoughts," she added. "Writing is a dynamic and beautiful form of communication. My hope for my students is that they truly see the power of words and how incredibly influential it can be."
As Thomas sees it, that's the purpose behind writing across the entire Lower School.
"We know writing is a life skill. Our students need to be able to communicate in the written word. Communicating with others is a big goal," Thomas concluded. "The other part of writing is how it solidifies and helps us understand our own thinking. Writing does that across all content areas."
In this photo from Fall 2019, fourth-grade teacher Jennifer Barcella shares tips for writing about how characters change during a story.
---
Third-Grader Changed Her World With Persuasive Essay
Back in 2015, then-third-grader Jane McNeill '24 had a job to do. As part of her class's introduction to persuasive writing, she needed to plan and write an essay urging action on a topic she felt passionate about. As she recalls today, it didn't take her long to find inspiration:
It took me a minute, and then I knew: our third- and fourth-grade center's water fountains. Among my favorite Lower School memories are the frequent games of recess soccer. Everyone played, everyone laughed, everyone tried. Picture a majority of the third grade all chasing after one small ball. It was the frequent, recurring problem that happened when recess was over that prompted my essay. There were only three water fountains for what seemed like an endless number of tired, sweaty, thirsty kids. I chose to write about the need for more water fountains, how new water fountains would allow one student to drink while the other refilled a water bottle, and how refilling water bottles would help the environment.
Jane's teacher, Tracy Rogers, was so impressed by the essay, "We Need More Water Fountains," that she shared it with then-Head of Lower School Payton Hobbs, who passed it along to Director of Buildings & Grounds Chris Farrow. As a proud supporter of the school's Lead From Here citizen leadership framework, Farrow knew that Jane's proposal could make a difference in the Lower School. While he and Leonard Johnson, Associate Head of School for Business & Finance, knew their budget didn't support a new installation, Johnson concluded, "We need to get this girl a water fountain!"
Here's Farrow's account of what happened next:
I reached out to Cecil Davis Jr. of Cecil Davis Plumbing, who asked if he could have a copy of the essay. After a few weeks, he stopped by my office and left me an envelope. Inside the envelope were the specs of a water fountain with a bottle-filling station and a note that said not to worry — he had shared Jane's essay with his supplier, and now the manufacturer, the wholesaler, the retailer and his business were all contributing toward the new water fountain. It would be installed before the end of the school year at no cost to the school.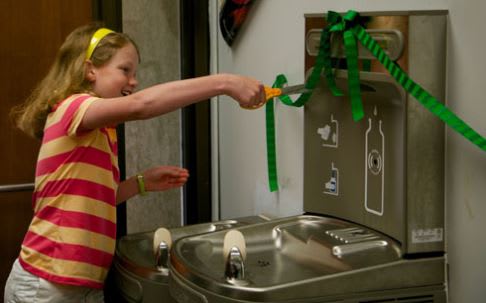 In this archival photo from May 2015, Jane excitedly cuts the ribbon on the Lower School's new water fountain.
---
In a news alert that went out on May 29, 2015, the communications office shared Jane's story, along with photos from a ribbon-cutting ceremony in the Lower School.
"The Ravenscroft community had truly come together!" Jane says today. "I was astonished at the impact my words had had. I had changed my world. I undoubtedly had help, but I also took a lot away from that lesson: one person really is capable of making a difference."
Today, as our resilient Lower School students follow the school's COVID-mitigation strategies, which include not using the drinking spouts on the division's water fountains, the bottle-filling station is more important than ever. Jane's initiative is giving back in ways no one could have predicted at the time.
Director of Buildings & Grounds Chris Farrow and Head of School Doreen Kelly pose with Jane after the ribbon-cutting ceremony in May.
---
From the Archives
---
---
---