"Exploration and Expression": Writing in the Upper School
They start out as four- and five-year-olds, drawing stick figures and copying letters to express the memories, moments and inspirations bubbling up inside their minds. They leave as adept critical thinkers, skilled researchers and seasoned communicators capable of both sophisticated persuasion and powerful self-expression. As one of the most integral skills Ravens develop in their time here, communicating well through writing touches nearly all academic disciplines and aspects of learning.
Teachers make it happen with purposeful curricular alignment and thoughtful collaboration that draws from the Lead From Here framework to equip students to understand their own thinking, share it with others and use it to make an impact on the world around them. Here, we explore writing instruction in each of the three divisions, taking students from PreK all the way through 12th grade.

---
Upper School: Empowering and inspiring real-world writers
"WE HONOR THAT IT'S HARD"
From their earliest months in the Upper School, Ravens hear a consistent message from teachers, advisors and college counselors: we're preparing you for college and what comes after. For faculty in the English Department, that means encouraging students to push themselves as critical thinkers, readers and writers.
"Students come to us from the Middle School having engaged with rigorous, challenging literature. They are prepared to do high-level work," English Department chair Cy League said. "Their feelings about writing [at this level] may vary, but most are receptive to the mind-set of writing's value — especially if we honor the fact that it's hard."
As students tackle writing topics that are increasingly abstract and, often, built on their own interpretation of literature, teachers continue to emphasize the writing process while building what department member Joel Karpowitz called "a strong critical eye and a formal writing voice."
"Our primary purpose is to teach students how to communicate effectively," he noted. "Much of the attention in core English classes falls on the technical tools and traits required for analytical writing."
"We stress clear, persuasive organization. We stress a logical progression of arguments. We stress relevant, well-chosen and smoothly incorporated textual evidence, either from the novel or a piece of secondary analysis," League added. "By 10th and 11th grade, we tend to think those skills are pretty well in place."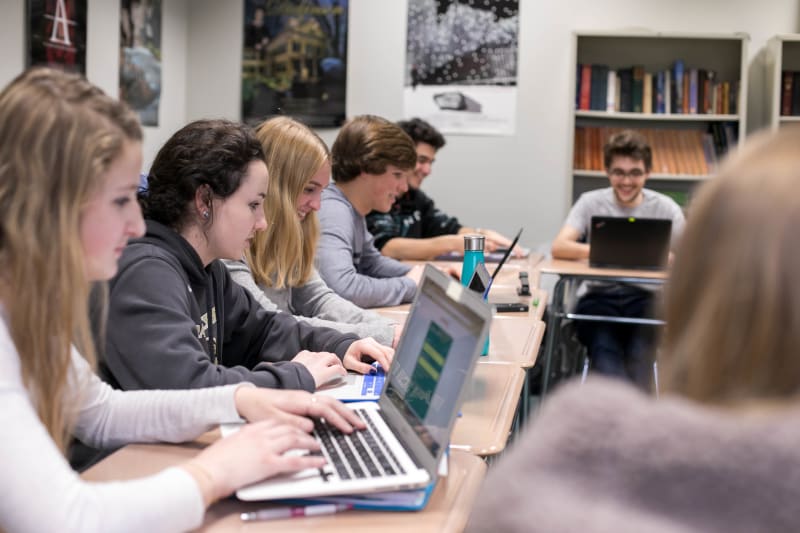 Students in Kevin Flinn's English IV Postmodern Literature class discuss an upcoming assignment in this photo from Spring 2018.
---
THE COMPOSITION REQUIREMENT
Students get an extra boost of instruction and practice when they take — as a graduation requirement in addition to their core English classes — either the semester-long Composition course or the yearlong Advanced Placement English Language and Composition course. Composition is typically offered to students in 11th grade but is also available to sophomores enrolled in Honors English II as well as to seniors. The Advanced Placement course — known familiarly as "AP Lang" — is open to recommended students in 11th and 12th grades.
"Composition can be an important class for students who aren't super-confident as writers," League explained. "It provides a natural, organic transition, as they start off writing about their own experiences. Some students are really good at memory essays — they have this natural voice that comes through. It gives them the chance to explore becoming smoother, more fluid writers, and then they can get into research papers and persuasive essays."
For students who truly relish opportunities to write, AP Lang is a rigorous choice.
"I frequently tell my AP Lang classes that they're taking the highest-level writing course Ravenscroft offers and that a seriousness of purpose when approaching writing is essential," teacher Kevin Flinn said. "AP Lang is for writers. They know all, or at least most, of the rules of grammar and usage at this point. I urge them now to break those rules in ways that elevate their personal voice."
These courses' focus on upper-level writing, English teacher Colby Bogie said, "resembles the introductory academic writing class that many colleges require their freshmen to take. The department takes great pride in the fact that our graduates consistently report feeling much better prepared for their college essays than their peers."
As seniors, Ravens choose between the yearlong Advanced Placement English Literature and Composition or semester-long courses built around thematic topics such as Twentieth-Century American Drama or Film Adaptation. These classes involve synthesizing writing assignments such as research papers.
Colby Bogie discusses the significance of quotations from the dystopian novel "1984" with his English IV Science Fiction class.
---
"ENTIRELY TRANSFERABLE" SKILLS
Of course, opportunities to dig into and write about interesting topics aren't limited to core English classes. In other courses across the Upper School, Ravenscroft students build and refine their skills in information-gathering, analysis and composition as they prepare for a future in which good communication is an essential competency.
Mark Laskowski, who chairs the Upper School History and Social Studies Department, acknowledged "a tremendous debt of gratitude to our friends in the English Department for working so hard to help students develop their research, reasoning and formal writing skills.
"One constant in each history and social studies class is refining the ability to make arguments and support positions with evidence. Students need to be able to examine and analyze information and use it to build and sustain complex arguments," he said. "These skills are entirely transferable, and students are able to put them into practice across all levels."
He noted as an example the "Big Dig" research project undertaken by students in Phil Kantaros' Advanced Studies in Government & Politics course. Students choose from a range of contemporary topics that affect their community and do in-depth investigation and analysis for their papers, which are comparable to college-level assignments.
Social studies teacher Phil Kantaros has his students in Advanced Studies in Government & Politics do a major research paper, dubbed the "Big Dig," as a capstone project.
---
Students can also flex their abilities in a number of electives. The English Department offers courses in journalism and creative writing, for example, that allow passionate writers to explore new forms and outlets for their work.
English teacher Tomeiko Carter teaches several media-focused electives, including — with Director of Global Programs Jessica Yonzon — the interdisciplinary Honors Digital Media for Global Learning. She said journalism courses "rely on the imagination and creativity of students through photography, layout and video production. Students provide evidence of their growth through tangible products such as investigative news stories, features, editorials, podcasts, blogs and more.
"I want them to understand that journalism is a natural outlet for the communication skills they develop in English classes. Writing compelling, well-presented and balanced news stories, in many ways, follows the logical progression and thought processes of well-argued essays," she said.
Creative Writing, Karpowitz explained, is "one of a handful of classes specifically designed to allow students to just play with language and write in a way that excites them. It's really fun to see the range of work students produce — poetry and short stories but also children's books, screenplays and songs. I've never had a semester teaching this class that didn't leave me impressed and excited by the quality of writing Ravenscroft students produce."
For Bogie, who teaches several core classes, the popularity of such electives underscores another reason why good writing instruction is so important.
"I try not to lose sight of the broader context of writing as a form of exploration and expression," he said. "I hope that my students are able to learn about themselves and about the world and grow in self-confidence as a result of their writing in my class."
Jump To
At top, Director of Library Services Angela Finn introduces students to the resources available through the Keim Center library in this photo from Fall 2019.
From the Archives
Making Connections Beyond the Page (Ravenscroft Viewbook 2019-20)
---
Students Undertake a "Big Dig" in Government & Politics (October 2020)
---
Teachers Share Vision for Honors Digital Media for Global Learning (February 2021)
---
"A Life Under Leaves": Place Essay by Mac Zhou '22 (Spring 2021)